I got a message "Can't open the filter driver", what's wrong with it?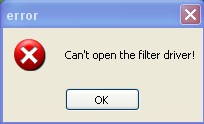 First of all you must make sure that you have not installed Anti DDoS Guardian 2.3 on Windows 8 or Windows 2012. Since Anti DDoS Guardian 2.3 does not support these Windows systems, try the up-to-date Anti DDoS Guardian.
If Anti DDoS Guardian was installed on Windows 2003 or Windows XP, then the problem may be caused by not allowing unsigned driver software. The following image shows the configuration of driver signing options in Windows XP. Please select "Ignore" or "Warn", do not choose "block". The "Driver Signing Options" dialog can be showed in Windows XP by following steps:
1. Right click "My Computer" icon and select "Properties" menu item.
2. "System Properties" window shows and select "Hardware" tab.
3. Click "Driver Signing" button.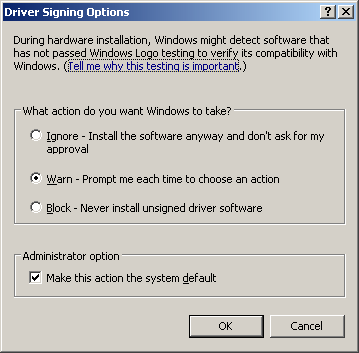 I lost my license files, can you send it again?
Yes. Please email us at [email protected].
My problem is not list here!
Please Email us: [email protected]